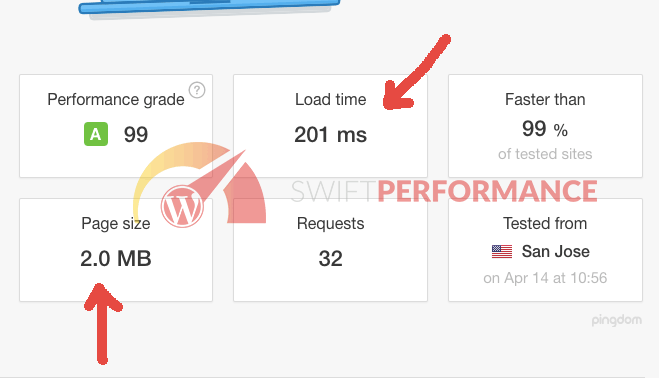 DAMN!!!! DAMN DAMN DAMN! I feel embarrassed to say this but gotta give credit where it's due: SWIFT PERFORMANCE LITE PLUGIN is the motherf**ken magic wand of the WordPress speed-up universe!
I'm embarrassed because I've made it my personal mission to stay on the cutting edge of WordPress speed-related optimizations/development and for whatever reason have not yet gotten around to this one. I've been talking up other plugins while not fully aware of this monster lurking in the shadows.
On to the review: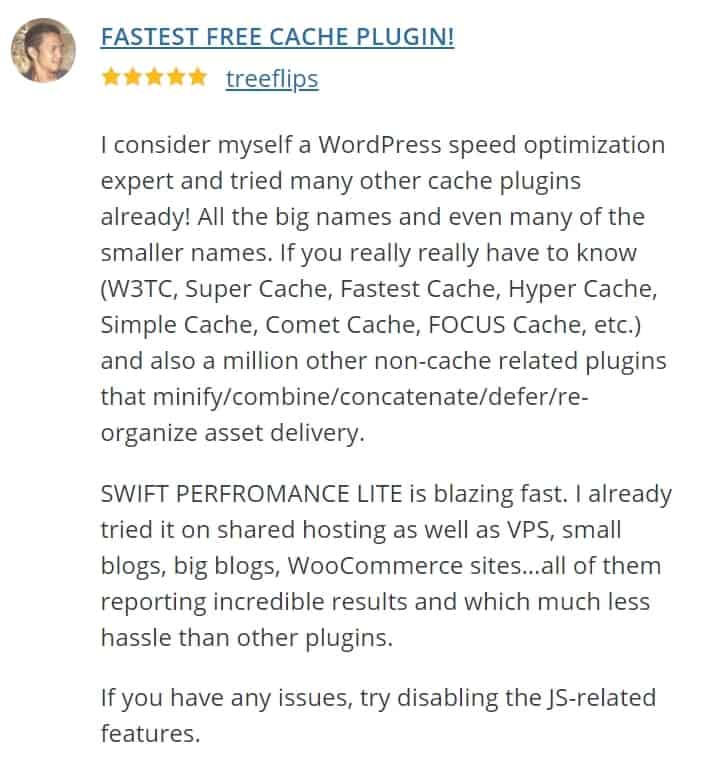 basically, I've tried a ton already. All the big names and even many of the smaller names. If you really really have to know (W3TC, Super Cache, Fastest Cache, Hyper Cache, Simple Cache, Comet Cache, FOCUS Cache, etc.) and also a million other non-cache related plugins that minify/combine/concatenate/defer/re-organize asset delivery.
I initially installed Swift Performance Lite on my shared hosting server and then stopped setting it up because it wanted my email address (to spam me, of course!). I made a complaint on a FB group and the owner (god bless him) assured me the emails were few and far between and that the free plugin was definitely worth giving up my email.
Anyway, staying true to my personal mission I gave it a shot this morning and just have to say how blown away I am. I tried it on a SiteGround server and it beats the crap out of the silly SG Optimizer.  In case you're wondering, it took about 2 minutes to set up. We're talking DNS-level speed using only code/server-level resources. On first impression without having to tune anything, it blows away what I could manage with other plugins requiring such precise tuning.
I don't have screenshots and numbers but I do have words:
Website with SiteGround's inhouse SG Optimizer plugin: a little faster than without. 200ms difference in pingdom tests but to the eye, you wonder if there was any improvement. The annoying thing is that the page loads are still a little "sticky" so it feels like it slows down before it speeds up…if you get what I mean.
Website with MAGICAL WAND "Swift Performance Lite": it was so damn fast, I started laughing. We're talking instantaneous. Like every f**ken click was instant like my site was loading locally.

UPDATE 4/16/18 – I've tested on 3 servers Apache/LiteSpeed/Nginx, and Swift wins no matter what!

(compare the numbers)
There were three small [neglible] issues:
I saw a very rapid FOUT that was annoying but went away after disabling another plugin "WP Disable". (Lesson to everyone, don't combine speed/optimization plugins. Swift can handle it all!)
On a WooCommerce store, the styles broke. All I did was disable the JS-related features and it was perfect again, and also so shockingly fast. For anyone else having issues, make sure you disable "Merge Scripts" and "Merge Styles" if something is breaking on your site.
Another thing is that it doesn't seem to decrease your test scores. So while it feels blazing fast to the eye, your pingdom scores might stay the same or even be a little higher compared to other cache plugins.
Anyway guys, give it a try. Take it from me, I've tried everything. This thing is the real deal and worth giving away your email, address, phone number, social security, bank account. This thing will get you a speed ticket in space. It should be a crime to load this fast!
Swift Reviews from other users below…