It's official…all Brainforce Force products (Astra theme and other plugins like Ultimate Addons, Convert Pro, Schema Pro) are now on my shitlist.
I thought Astra looked cool and exciting when they made a ton of noise in the emerging "lightweight WordPress theme" market back in 2018. They seemed to be a super lightweight theme with aggressive extensions so that you could have not only a lightweight site but a full-featured one.
Their success with Astra was duplicated to many other plugins. An SEO plugin, an email marketing plugin, and then addons for pagebuilders, addons for Gutenberg, and on an on. Everybody enjoyed having lightweight, low-cost alternatives.
It all seemed great…until…
…until I actually tried their products on various sites. Some of them were used on my personal projects. Others were on client sites. I'll go down the list of my Astra-nomical discoveries below.
1. Astra theme isn't really a true developers-theme.
The Astra theme is probably their best product and a clever marketing anchor if you ask me. Indeed it is super lightweight. Super minimal, so lean and simple. And of course, that would make it easy to deliver upon their "fastest/lightest WordPress theme" claims.
But as I've said before, there's a huge difference between FAST vs EMPTY. There are many themes out there that are fast but you can't do anything with them. Almost no features…so minimal to the point that you have to install plugins for simple functionality which then negates their minimal footprint to begin with. Believe it or not…Astra hits the mark here as well. Their base theme is very lightweight and quite extensible.
So what's the problem then?
My problem is the Astra theme isn't developer-friendly. They've copied some pseudo developer-friendly features like hooks and filters but by and large their theme is marketed towards the regular WordPress user market that don't know how to code and simply throw pagebuilders on all their pages.
I don't mind that Astra has chased the money and followed the crowd with the largest revenue potential. All I'm going to say is that the Astra theme is for newbies and not for true developers. If you never plan to do any coding, you're fine. But if you do want a legit coder-friendly theme…please use something else, like GeneratePress or Genesis.
You may have also been around during the buggy era when it seemed every WooCommerce update would break Astra. And you never know if it was the theme or WooCommerce. But it seemed Astra wasn't able to support their newbie customers well enough and many of them got mad. That period never bothered me personally, but I'm just sharing.
2. Ultimate Addons for Elementor makes slow database queries.
Yes. This happened. I think same goes for their Ultimate Addons for Gutenberg. I can't remember all details because I halfway wrote this post months ago and just finished it now.
3. Uses too many autoloads.
Originally, I found Schema Pro had like 800KB on one of my client sites. I couldn't believe it. Do not use their plugins on heavy sites or really busy sites! Trust me, they are not built for best performance!
UPDATE JUNE 25, 2020:
Being that Sujay so generously spent his time to invalidate my post below in the comments and also in my Facebook Group. I felt inclined to add some photos of "detailed proof" for him.
I had to take precious out of my day to go find one of the client issues…digging through old chat messages and emails. Low and behold..the site with 800kb autoloads has only gotten worse in the last 2 months. Oh and what do you know…turns out I'm not a liar after all.
This site is using the LATEST VERSION OF SCHEMA PRO from June 17, 2020 and the previously 800kb autoloads HAS NOW GROWN TO 1.2MB of AUTOLOADS. I don't want to hear anymore excuses/accusations about sites supposedly using outdated version, etc. (Screenshots attached.)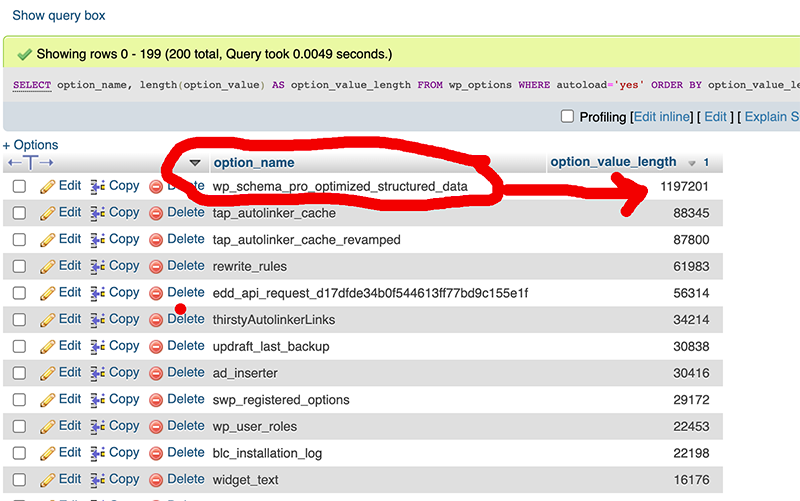 UPDATE JUNE 30, 2020:
After trying the tips that Sujay suggested, I am now pleased to update that this issue was resolved. The latest version of Schema Pro doesn't have the problem. If you have data from the previous version, you simply need to deactivate and reactivate the plugin to get rid of the autoloads.
UPDATE NOV 30, 2020:
Schema Pro causing a ton of locked up outbound LMTP processes due to not having a recipient email.
This issue caused super high server loads. Very frustrating…and further proof of their plugins inability to scale. This is a critical client site, too.
UPDATE DEC 8, 2020:
I find another client site using Convert Pro that had 125K autoloads.
Anyways…I'm getting too lazy to report each and every instance of high autoloads.
3. Astra theme has too much autoloads
Yeah, this is my replacement #3. I see 800kb worth of autoloads in the wp_option table, many rows called "astra-sites-and-pages-page". It's just a common theme with anything made by BSF.
4. Some of their plugins (I can't remember which one) have a lot of inline styles.
Blah blah blah, more ranting here. Too lazy to even write it out.
5. They deleted my feedback on their Facebook group.
When I posted and asked on their Facebook group about the autoloads, it was deleted immediately. What I wished was for them to address it…maybe like a, "Yes, that's us. We're aware of that and looking to fix it." or even a "We've never seen that. What site are you noticing this on?" to make it sound as if it was uncommon.
But no, they chose to squelch to my message and I suspect it's how all their stuff is built. Sure enough when I check their other plugins, I see excessive autoloads as well. Looks like they're not planning on fixing it anytime soon. Schema Pro is still a cool plugin but not if you have many pages and lots of traffic.
NOTE: if you don't know what autoloads are…they greatly affect your speed and memory use. You can learn how to clean them here.
UPDATE JUNE 25, 2020:
Sujay actually uploads the image of my post and says it was just an "unhelpful rant" and not useful as feedback. I'll let you decide for yourself.
6. Not good support
If you followed BSF products for some time, you'll know that it's an ongoing complaint about their support. At first, I chalked it up to them having recently launched many products and expected they would be back on top of things but their support never caught up. There are still angry customers who eventually left despite already paying for their lifetime deal.
7. Ultimate Addons for Elementor (UAE) causing conflicts
I got a client with issues on this one. It's either conflicting with caching or conflicting with another plugin. To be fair, UAE usually doesn't have issues but this time it was the culprit. Anyway, I'm done debugging BSF stuff for now.
8. Shady business and developer ethics
Some of you may have remembered the Astra theme suspension from the repo. Read for all the details:
Brainstorm Force plugins aren't built for enterprise use.
That's the bottom line. If you have a small site with not so many things going on, Astra stuff will be just fine for you. But if you want something A-grade and truly professional or have a large site with tons of traffic, stick to the pro stuff and leave the Astra ecosystem entirely.
The way Astra is headed, they're just gonna be chasing and doing copycat iterations of every popular plugin out there. I don't see them really bringing anything of unique value or ever focusing on their developer market. You can even feel it with their delayed progression on many projects. It seems they build it just good enough and then move on to the next cash cow.
With that said, their stuff isn't totally bad and can still be useful for many situations. Some things like ConvertPro are usable low-cost alternatives. But for everything else…just be careful, ok?
Still want to use Astra and BSF plugins?