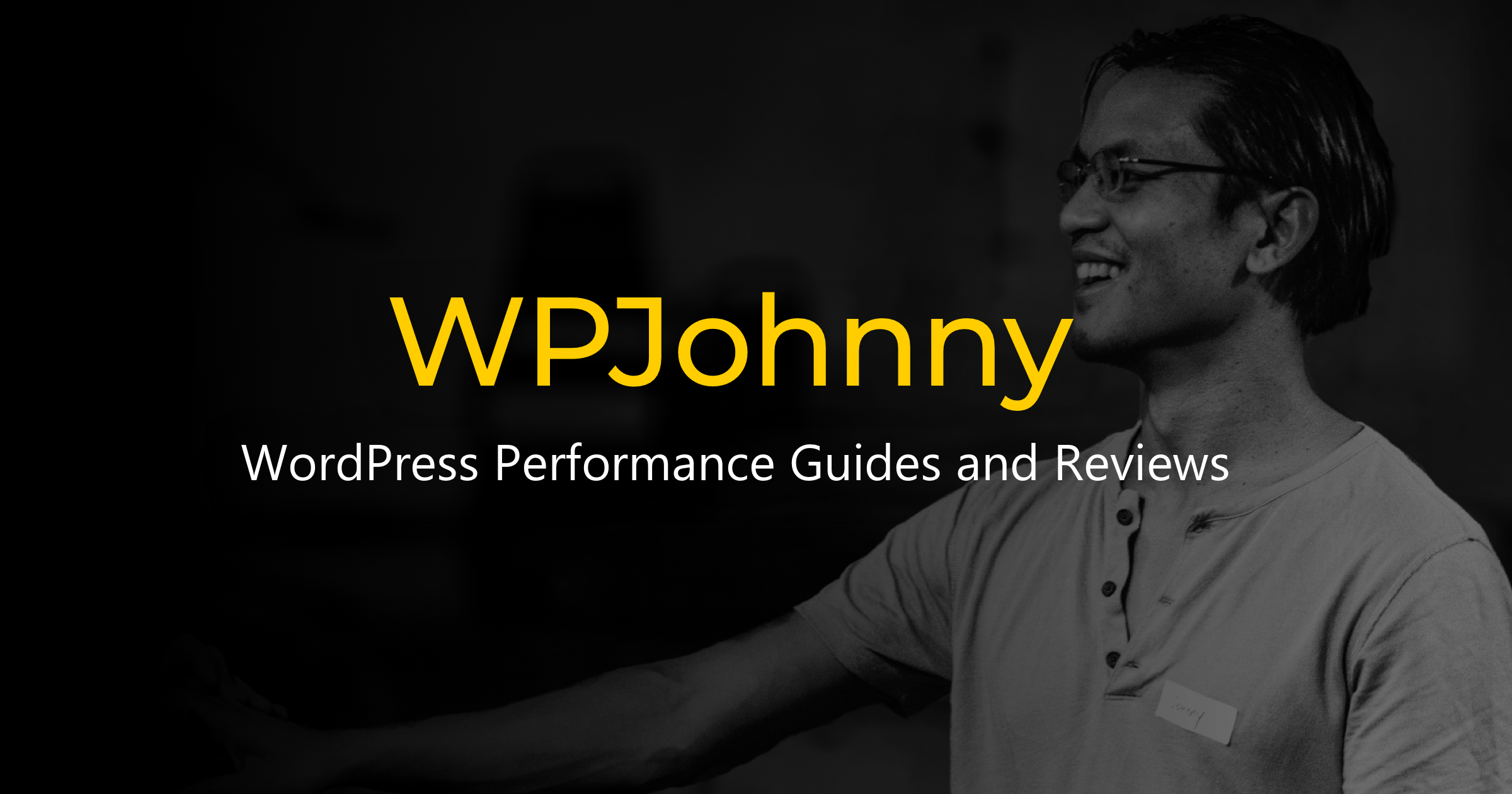 WPJohnny is a no-BS straight to the point WordPress guides and reviews site.
I share helpful guides and reviews on hosting, themes, plugins, design, development, blogging, and marketing.
Guides are detailed and concise to help you make clear decisions.
Reviews are honest, and cover only things that I've actually tried.
This site is not motivated by affiliate revenue, SEO rankings, or popularity.
Affiliate links do exist on my site, and I make $$$ if you buy from them.
No annoying ads, product banners, begging for emails, or other monetization bullcrap.
Here's another informative interview of me on WPFounders.
The story of how WPJ got started
WPJohnny was created so I didn't have to explain the same stuff over and over to clients.
What theme is best?
Why or why not (to use) this webhost?
How do I ____?
WPJohnny exists as a handy copy-paste resource for me and my clients more than anything. It was intended as a private blog to myself…but somehow people keep finding it.
I write only about what I know and work with on a regular basis.
If I love something, I'll tell you. If I hate something, I'll warn you.
What WPJohnny has spiraled into…
I never imagined my little blog would get the attention that it does. It's now also a Facebook group community full of passionate (and eclectic) WordPress users. We have end users, power users, developers, agencies, even theme/plugin developers, and also service providers in there. It's a WordPress Noah's Ark if you will. Every kind of WordPress animal in there!
I've not only made friends but also got invited into the coolest development projects. It is an absolute honor to see the future of WordPress as it is being made. And to be consulted for feedback on these projects is beyond my wildest dreams.
About me
Born in Los Angeles in 1984. Love tech, boxing, and tango (dance). Oh, and drinking too! (Beer & Scotch-drinker.)
I'm an all-around web developer, web marketer, web host, blogger, sys-admin, tech entrepreneur. I've either worked or been a part of every facet of web development and web business for over 2 decades now.
I was fortunate to have been a part of or managed so many successful companies over the years. This gives me unique insights into what companies need because (I think) I know where they're going.
Tech timeline:
2020 – released WPJ plugins into the wild. Started pagebuilder-removal service, speed optimization courses, also audit service for theme and plugin developers. Many posts during Covid-19 lockdown.
2019 – more focus on JohnnyVPS, our webhosting service. Unloaded tons of posts at WPJ. Also started WPJ Facebook group.
2018 – released our JohnnyVPS webhosting service to the public instead of only in-house clients. Lots of free time helping others on Facebook groups for WordPress, webhosting, or performance-related issues. Rebranded my old site TheVanguardEffect to WPJohnny.
2017 – recruited more talented designers, developers, and admins to our team.
2016 – started limiting our web development service to only high-end projects.
2014 – moved back to LA and enjoying co-workspace environments.
2013 – released several e-products in my other work niche.
2012 – moved from Los Angeles to San Francisco. Enjoyed the tech scene there. My girlfriend lived right underneath the AirBnb guys.
2011 – stopped onboarding new clients so I could focus on personal tech projects.
2010 – teamed up with other remote specialists so I wasn't handling everything myself.
2009 – began server administration and performance optimization due to success of mine and client websites.
2008 – graduated from Cal State Northridge with a B.S. in Marketing. Quit the IT world to focus on our company's web-development services. Also became a full-time blogger.
2007 – became a full-time web-marketing consultant and SEO/PPC specialist.
2006 – started messing with web design in Dreamweaver. Eventually found content-management systems (CMS) like Joomla & WordPress.
2004 – started doing IT work professionally. Break-fix & networking for small and even large Fortune 500 companies.
1999 – doing IT break-fix work for family and friends.
1997 – tried to learn C++. Note keyword "tried".
1991 – played on my first computer at age 7. Messing with DOS and Qbasic.
My tech skills:
web development & online marketing
traditional marketing/branding, ad campaigns
SEO, PPC (Google Adwords, Facebook ads)
Social media marketing (Facebook, Twitter, Youtube)
design UI/UX direction
content marketing, SEO, copywriting
web server management & speed optimization
WordPress design, development, maintenance, and [speed optimization]
e-commerce (WooCommerce/Shopify/Magento)
Amazon Affiliates, Ebay network
newsletter management (Mailchimp, Mailerlite)
saving people time & money!
…blah blah blah
A typical day in my life…
Wake up, take care of client websites and servers. Do some writing, get lost in the maze of Youtube. Chat with some devs. Eat something, maybe go to the gym or out dancing. Come home, answer some comments, go to sleep.
…typical day when traveling:
Go out to town. See some stuff, take pictures, eat stuff, come home exhausted. Check my email and answer comments on my sites.
Other sites I like that may or may not fit my ultra-biased opinions on tech matters:
https://haydenjames.io/
https://pagepipe.com/
https://wpspeedmatters.com/
http://webtypography.net
https://ma.ttias.be/
Other hobbies (boxing & tango):
I'm also a boxer and boxing trainer.